Show/hide Filters
+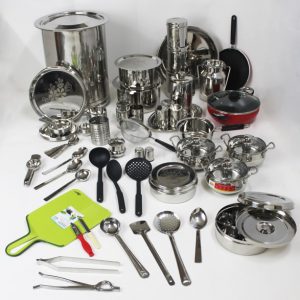 Each element on a dining table has its own significance and adds to the ambience and overall atmosphere of your special meal times. Bring an imperial touch to your dining experience as you savor the tastes of joyful eating with a spread of our mirror finished dinner sets. The best in class – Ramson's excellent workmanship and appreciable quality are hallmarks of the most premium Dinner sets. This means years and years of use and long years of remembrance; true to its name.
Jeevan Saathi Saath Nibhaye Jeevan Bhar.
Sku:

R-D-JS-FL-101

Availability:

In Stock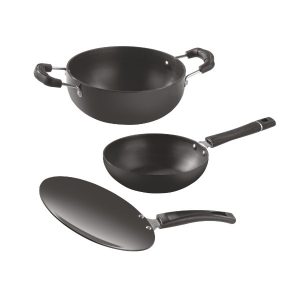 Hard Anodized Cookware presents the ideal cooking surface for traditional cooking with normal quantities of oil or butter. Foods that need to be browned or crisped will cook fast and well. Cooking that uses sufficient water or other cooking liquids will also do well in Hard Anodized Cookware. Also this type of cookware is developed for kitchens to take the abuse of being used to cook multiple dishes per day and designed to last many years.
This set includes Mini Kadai 1 pc, Mini Tava 1 pc and Mini Fry Pan 1 pc.
Sku:

R-C-HA-MI03

Availability:

In Stock