Show/hide Filters
+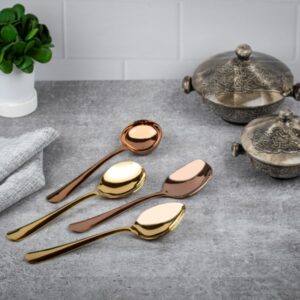 Set of 4 serving spoons- Ladle, Basting, Rice & Oval Spoon. The PVD Coating on it makes it look more stylish and also adds status to your dining table
Our PVD Coated Ladle spoon is commonly used for soup, stew, or other foods. It has a long handle terminating in a deep bowl, with the bowl oriented at an angle to the handle to facilitate lifting liquid out of a pot or other vessel and conveying it to a bowl.
Our PVD Coated Basting Spoon has a Shallow bowl and pointed tip. It helps in gradually pouring the liquid at the bottom of the pan, over the food spoon by spoon. It is ideally used for mixing, stirring, and serving.
Our PVD Coated Rice Spoon is used for serving rice during buffets. This rice serving spoon gives your food spread a stylish and trendy look.
Our PVD Coated Oval Spoon is typically used for serving during buffets. It has a deep bowl and a curved handle which makes it convenient to lift.
Sku:

RAMPVDSERSET

Availability:

In Stock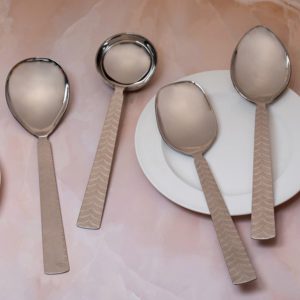 Our Wings serving set is crafted from the finest stainless steel. This design gives a rich and sumptuous look to your flatware. It is designed very aesthetically and comes with elegant mirror polish finish which makes it a perfect set for all your special occasions. >View size chart
This set includes oval spoon, basting, ladle and rice server.
Customize & Pick your set
Sku:
Availability:

In Stock