Show/hide Filters
+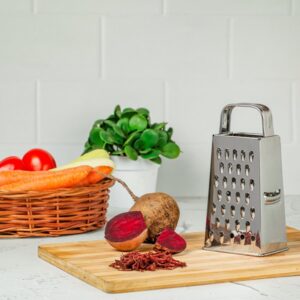 Perfect for a multitude of kitchen uses, this four sided grater is an excellent addition to any kitchen!Includes; coarse shred, medium shred, fine shred/zester and slicer. Quickly shred a large block of cheese or potatoes for hash browns with minimal effort.  Ideal for soft and Hard cheeses, fruits and vegetables, chocolate, garlic, ginger, nuts and much more! Also great for zesting citrus. Stainless steel construction.
Sku:
Availability:

In Stock
The Spudnik rewrites the rules of mashing potatoes. The unique flower shape is designed to be rotated in the bowl rather than pounded. So the tines slice through the potatoes at an angle and distribute the force. The result – perfect fluffy mash with less effort and in less time.
Üutensil is a British company that designs exciting and innovative kitchen products. The modern and stylish utensils stand out in your kitchen. They use a blank slate approach to cooking tasks that allows for new and better ways of preparing food.                                                                               Üutensil – changing the way we cook.
Sku:

Spudnik

Availability:

In Stock